TOWARDS A PERSONALISED IN VITRO TEST SYSTEM

CONTRACT SERVICE, TECHNOLOGIES OPEN FOR PARTNERING
Intestine-on-a-Chip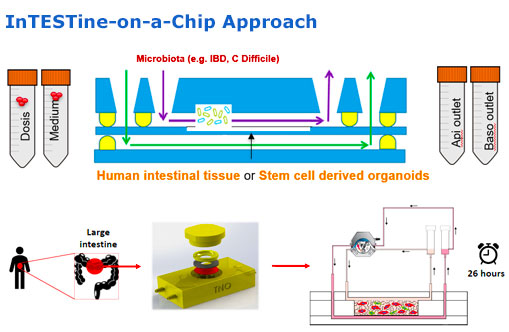 We aim to develop a physiological in vitro human intestinal model that can be used to study (drug) absorption and impact of drugs, nutrition and microbial environment on gut health. The ultimate goal is to develop a population-on-a-chip model to aid in the development of precision medicines by targeting patient variability using intestinal tissue and microbiota from various individuals reflecting populational variation.

Summary:
・We have developed a novel microfluidic platform with an enhanced throughput to be able to study (drug) absorption, and impact of drugs, nutrition and microbial environment on gut health.
・InTESTine on a Chip can be applied to human intestinal tissue biopsies with remained tissue viability and functionality for 26 hours.
・We are currently using the InTESTine Chip to study in combination with microbial components
to study the influence of host-microbe interactions on drug absorption and immune response

Download:
● Intestinal explant barrier chip: long-term intestinal absorption screening in a novel microphysiological system using tissue explants. (Publication, The Royal Society of Chemistry 2021)
● Flow influences functioning of fresh human intestinal tissue in the inTESTine Chip (Poster at ISSX-2019)
● GUT ON-A-CHIP: tissue based human intestinal barrier model for studying host microbe-immune responses. (Poster at JSSX-2019)
● I-Screen: Ex vivo human microbiome platform to study microbiome induced metabolism of drugs and their metabolites.(Poster at JSSX-2019)

Liver-on-a-Chip / In vitro liver fibrosis model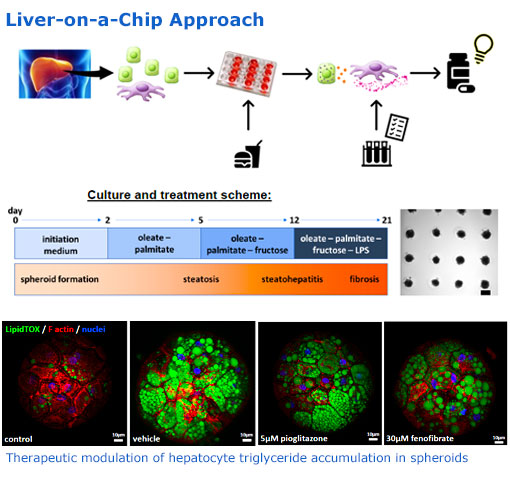 NAFLD, characterized by hepatocyte steatosis, is the most common form of chronic liver disease and may progress towards development of NASH, cirrhosis and hepatocellular carcinoma. Currently no effective therapeutic treatment is available to halt or reverse progression of NAFLD, partly due to the absence of translational cell models. We present data on induction of steatosis, modulation of steatosis by prototype compounds and profibrotic cell activation in a 3D liver spheroid model using primary human cells.

Summary:
・A diet-induced disease-mimicking 3D in vitro model, closely resembling the pathophysiology of liver steatosis and early fibrosis was developed;
・Liver spheroids composed of primary hepatocytes, stellate and Kupffer cells exhibit expected cell function for at least 21 days;
・The steatosis and steatohepatitis induced by fatty acids and fructose can be modulated by model drugs;

Download Poster: Development of a diet-induced diseasemimicking in vitro model of non-alcoholic steatohepatitis / fibrosis.